Veteran Sports Business analyst Maury Brown just graded new MLB Commissioner Rob Manfred's first year, giving it an overall A-/B+. Brown's high marks had a notable exception with Manfred's "Views On Daily Fantasy Sports", where Brown gave a grade of "C-", noting:
"If there's been one aspect that Manfred seems to have gotten too far in front of, it's the league's relationship with daily fantasy sports."
But recent industry data around the breakdown of daily fantasy sports revenue helps explain why Manfred is right to be in support of the (probably unfairly) embattled industry.
Splits
In early December, Dustin Gouker at LegalSportsReport.com reported that revenue from NBA daily fantasy sports was catching up to an equivalent week of NFL daily fantasy contest revenue. During the equivalent last week in November/first week in December, according to DFS analytics site SuperLobby.com, Fanduel generated $17.6M in gross revenue for NBA contests vs $21.9M in gross revenue for NFL contests.
(Note: Fanduel data used because SuperLobby is able to generate comprehensive Fanduel data for both large prize pool tournaments and smaller stakes "cash games". DraftKings data over the same time period, without cash game data, showed closer to 50% more NFL-related gross revenue. Fanduel also has the partnership with the NBA, which may explain the higher percentage of NBA-related gross revenue).
The growing parity between NFL-related daily fantasy revenue and that of MLB and NBA-related daily fantasy revenue was further reinforced in last week's update, noting that 40% of total 2015 daily fantasy sports revenue was attributable to NFL contests. Both NBA and MLB focused each contributed around 25% to the 2015 daily fantasy sports revenue total.
College football, PGA Golf and the NHL also made noticeable gains over their historically small market share of fantasy competition. Overall, these are remarkable gains for the non-NFL sports.
While good data has long been missing from the fantasy sports landscape, informed industry estimates would suggest that prior to the recent growth of the daily fantasy format, NFL-related fantasy was achieving at least 3X-4X the number of active users as the next closest sport (MLB) and had closer to 10X the revenues. These new metrics represent big, big jumps for non-NFL fantasy usage and revenue metrics.
Format
Understanding the daily fantasy game mechanic goes a long way towards explaining the growth and importance for the non-NFL sports, particularly MLB. As we've blogged about previously here and here, there's a lot of misunderstanding about the difference between the daily and season-long fantasy formats. Or rather, the lack of the difference between the formats.
As pundits and Attorneys General are about to find out, there's no literal or legal difference between the two formats (which is not to say that there isn't a difference between a provider processing the payment vs just facilitating the contest), the same way Farmville and Candy Crush Saga are not legally different.
DraftKings' Attorney David Boies noted as much, calling it the "fatal flaw" of the NY AG's legal pursuit, and is making it a cornerstone of DraftKings legal defense in NY.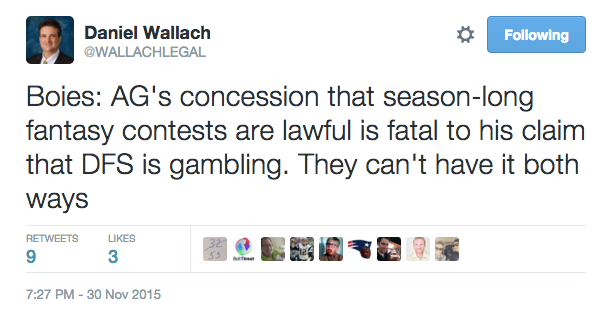 NFL season long fantasy's broad appeal can be easily understood from the lens of the season-long game mechanic.
The potential demographic that could participate in a season-long NFL fantasy league with the amount of time and effort required to set 16 lineups is exponentially higher than the potential demographic that both knows enough about and wants to change their "pitching rotation" 162 nights per year.
Simply put, the daily game mechanic of the salary cap format, in addition to the flexibility of being able to take any day, or any number of days off from the requirement of playing, strongly benefits the non-NFL sports. In the case of these sports with 5X-10X more games, seasonal-fantasy would require a 5X-10X commitment and corresponding depth of knowledge to compete. There are very few diehard baseball fans who know every team's pitching rotation, but there are very few people in America who don't know who Peyton Manning and Tom Brady are. Instead, the daily format requires a 1/5th commitment to compete, enabling significantly more casual gameplay, hence the significant marketshare gains.
Instead of wondering whether daily fantasy sports will overtake season-long fantasy sports, perhaps the correct question lies around which formats are best for each sport? Perhaps the answer is that NFL will continue to dominate the very large (inevitably and eventually legal and regulated) season-long fantasy sports market, while MLB, the NBA and NHL will also see substantially increased value and ratings from the continued growth of the (inevitably and eventually legal and regulated) daily fantasy sports market.
Impact
The NFL has long since figured out that fantasy sports is across the board really, really good for their business.
If it's true that the daily fantasy formats resonate with fans of the MLB, NBA, NHL, PGA and any other sporting formats, the way the season-long fantasy format has resonated with NFL fans, it would be easy to understand Rob Manfred's support of a legal and regulated DFS. Fantasy really moves the needle, and for a sport fighting a 25 year secular decline, it's a no-brainer.
In fact, Manfred, Adam Silver and Gary Bettman would be wise to get their lobbyists lined up behind or to help coordinate the ongoing fantasy sports legislative efforts. But that's another story.